Mobile Shredding New York Services
Want the convenience of shredding right at your curbside? New York mobile shredding services allow this. Our contractors will send a shredding truck to your location, where a technician will shred all your documents right in front of you. Shredding trucks are totally self-contained and can operate without any outside power source. They shred in an hour what it would take you a month to destroy with a normal office shredder.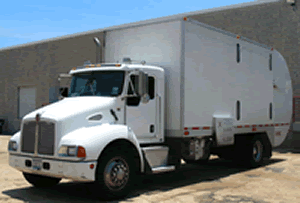 If you prefer to watch your documents being shredded, then an on-site mobile shredding solution is for you. Shredding trucks are configured so that you can watch as your confidential material is shredded. When it comes to your security or the security of your business, you can never be too careful. Witnessing the destruction of your documents is a great way to ensure your peace of mind. The trucks shred 6,000 pounds an hour—so most jobs only take a few minutes.

Since mobile shredding conveniently comes to your location, you won't have to worry about lugging hundreds of pounds of paper around New York City to a shredding facility. We'll save you the time and hassle by coming straight to your door.

If you are a business that prefers to watch first hand your documents being shred, then on-site mobile shredding solutions are for you.
How Mobile Shredding Works in New York
STEP 1: Materials are collected and transported to the truck.
STEP 2: Materials are shredded and compacted into a sealed compartment in the back of the truck. You can witness the process if desired. The process is completely secure.
STEP 3: Certificate of Destruction is provided.
STEP 4: Shredded paper is compacted and the paper is recycled at a local NYC facility.

Interested in Mobile Shredding? Contact Us Today for Free Quotes on Mobile Shredding in NYC!
On site shredding trucks provide service to homes and businesses in New York City. At New York Paper Shredding Service, we understand to importance of your security and the security of your business. Let New York Paper Shredding Service help protect you today.
To learn more about the mobile shredding services at New York Paper Shredding Services, either call (212) 918-1863, or request a FREE quote and let us know what you need shredded!